Personal consultation to find the perfect individual special case
As experts for special cases and individual case solutions, we develop the optimal solution for your products together with you. Our range of services extends from personal consultation with our experts, through a development process that takes place completely under one roof, to production in Germany – with quality "Made in Germany".
We are your expert for special cases and individual case solutions –
Together with you we develop the perfect solution for your products, because solution providing is our passion.
In creative talks for a leading product
As a customer you can benefit from individual and extensive guidance from bwh Koffer from the very beginning. Your personal contact person will accompany you throughout the entire project, whether on site, via video conference or by telephone.
From the first sketches to the beginning of series production, you as a customer are closely involved in the development process, nothing happens without consulting you. Personal guidance from A to Z and creative teamwork are the foundations for creating your ideal case solution at bwh.
The highest quality materials and workmanship as well as the perfect harmony of function and design are always of the highest priority at the bwh case factory.Personal advice from beginning to end and creative teamwork are the basis for the development of your optimal case solution at bwh.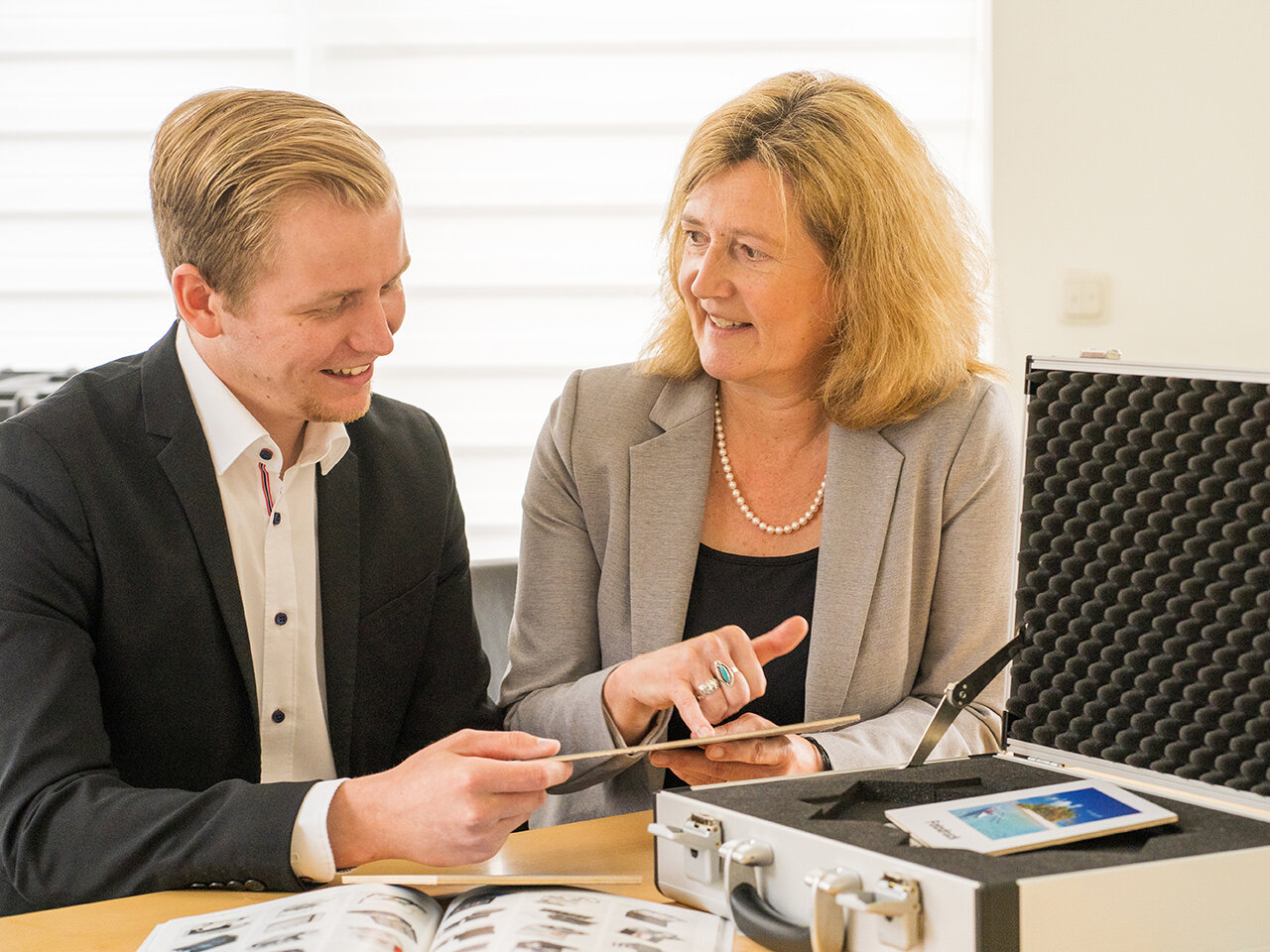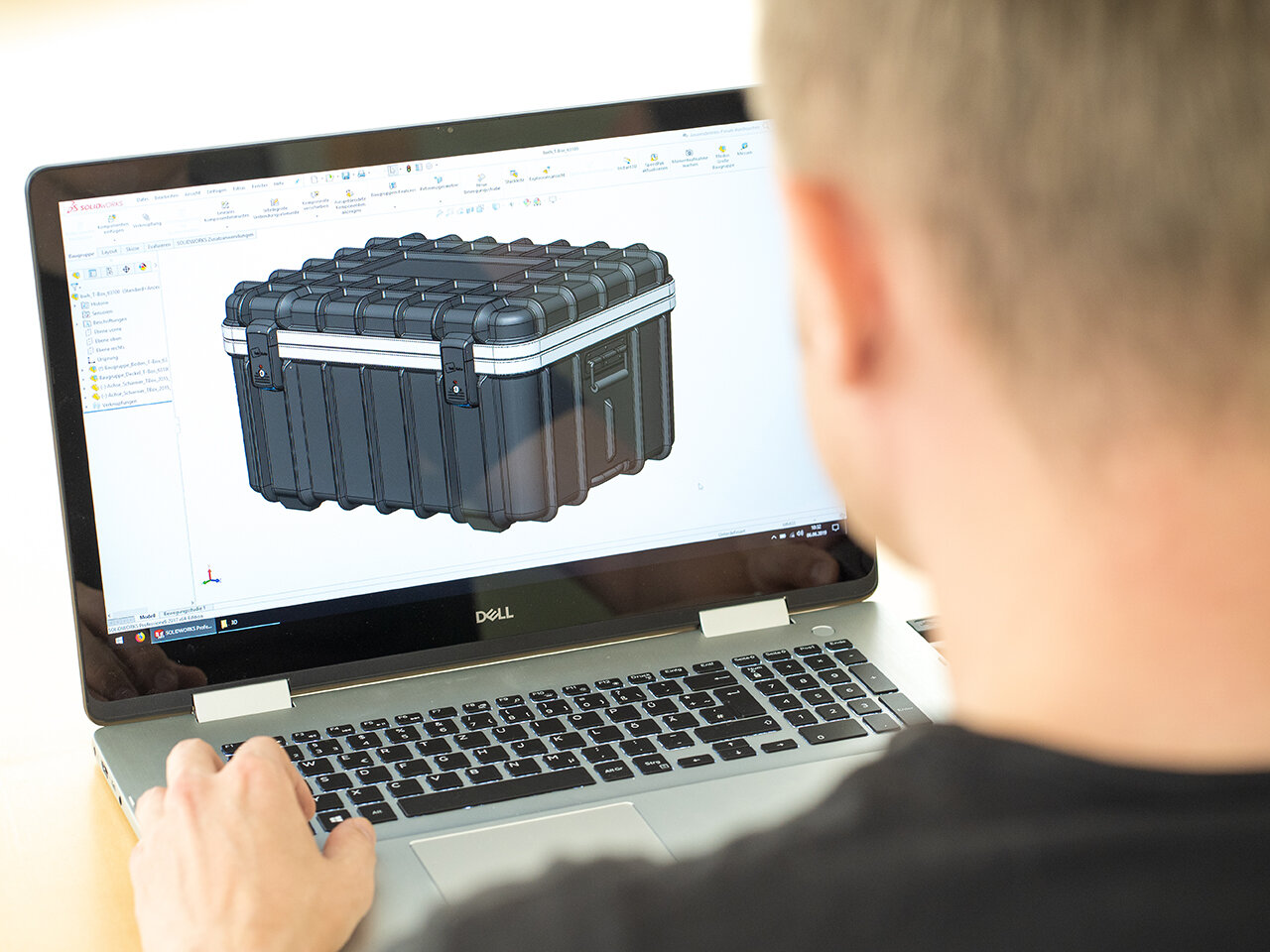 From idea to prototype
Following a detailed, personal consultation, you developed the specifications for your individual case with the bwh case experts. Next up, bwh manufactures a detailed prototype in their on-site prototype department in light of your preferences. Thus, you have the opportunity to test the prototype for functionality and design – and, if necessary, agree on any modifications. Series production can then begin following your final approval.
It is necessary to create a model for series production in advance for deep-drawn individual plastic cases. With bwh Koffer, you have the advantage of this production step also being carried out on-site. Therefore, the bwh case factory also provides you with individual ideal solutions under the best terms in the sphere of plastic shell cases.
Even in small quantities, your need for customised plastic shell cases can be economically realised. By embossing logos or lettering, you are able to make your plastic shell case from bwh fully unique and with great advertising appeal and receive your fully personal design.
The implementation of your individual case solution
bwh Koffer not only proves its innovative capacity in the development of your individual case. Numerous machines are developed and constructed by our engineers for the purpose of realising customer requests according to the technical requirements of our production department in-house. This ensures a perfect production process, full in-house production, high productivity and the opportunity to also fulfil the most eccentric requests for every customer.
If all guidelines have been applied according to your specifications, your bwh contact person will present you with the finished prototype for final approval. Then it goes into series production. Whether it's a custom-made item or a large quantity – bwh production always guarantees you the highest level of quality, Made in Germany. Production processes perfectly balanced with one another form the backbone of special case production.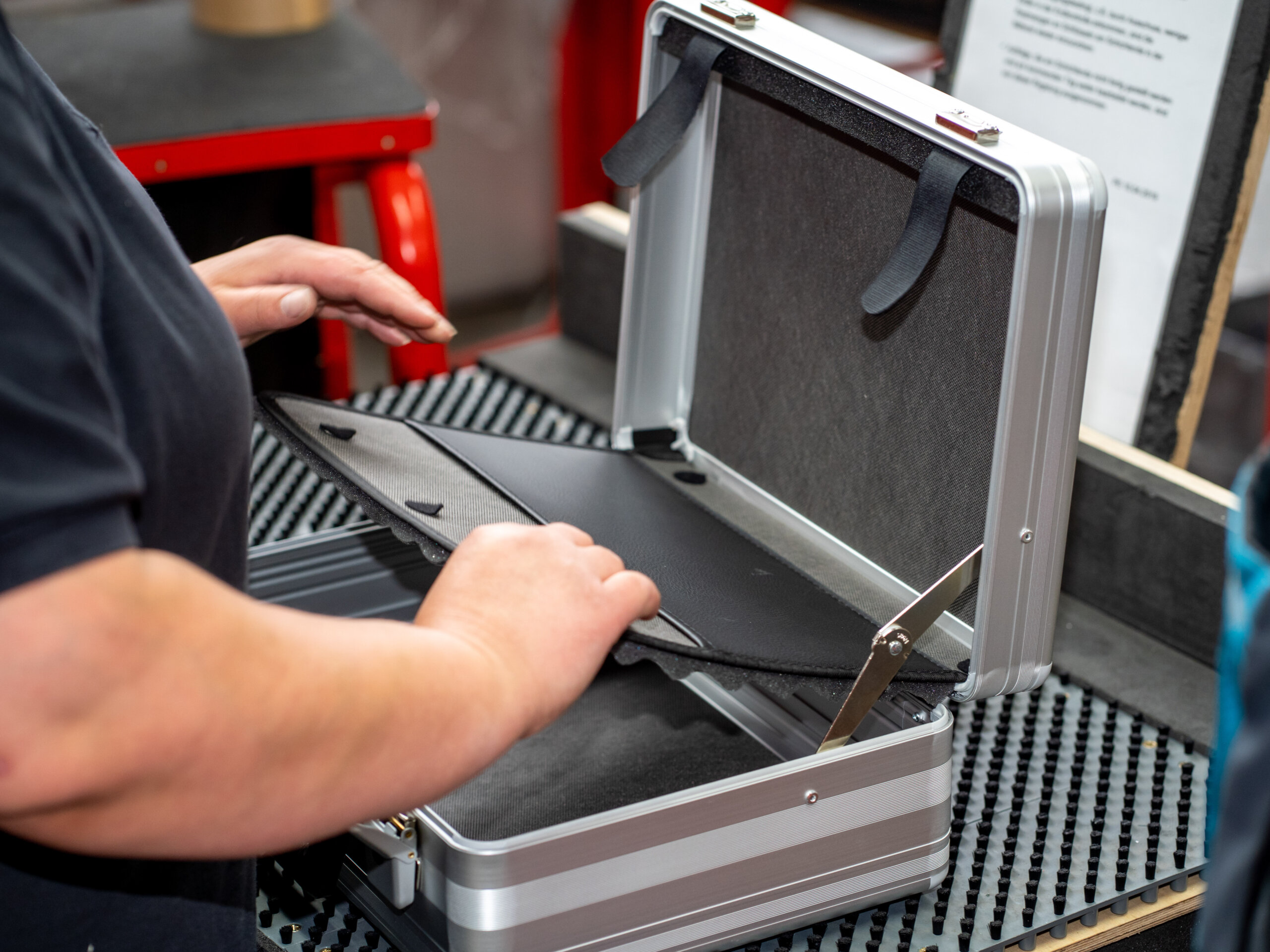 Concentrated know-how from almost four decades of company history – developments that become standards.
The bwh case manufactory is characterised by individual case solutions for use in all relevant industries. With the engineering experience of four decades, numerous developments have been made which have now become the standards of the international case market. Continuous investments in the areas of research and development have ensured that bwh attracts worldwide attention as the market leader in an innovative industry with ever new product developments.
The high innovative power of the development teams ensures that the ever-changing demand for case solutions is quickly and professionally transformed into market-ready products that guarantee success in close coordination with customer requirements. The innovative spirit of bwh case manufactory is also reflected in the large number of patents, registered designs and utility models.
The equipment at bwh case manufactory is also innovative and technologically up-to-date: with a 3D printer, for example, in-house prototypes of sample parts, new fitting systems or design ideas can be implemented in no time at all.
Industry 4.0 – Digitalisation for case solutions
At the beginning of 2016, bwh Koffer continues its way into the future as a successful medium-sized company. In cooperation with our subsidiary, B+W Koffermarkt GmbH, we have developed the bwh-Koffer-Foam-Configurator. This easy to use online configurator solves the problem of customer-specific foam inserts in small quantities. Starting from a purchase quantity of 1 piece, you as a business customer or as a private person can design a foam insert online without prior registration and activation, which we then cut to size for you in our factory in Hörstel/Germany.
Flawless quality control with ISO certificate
bwh Koffer is certified according to EN ISO 9001. All bwh cases are subjected to consistent quality testing several times during the manufacturing process at each individual production step and the result is documented. This ensures that all manufacturing components meet the highest quality standards at all times – from the initial idea to the final acceptance of the finished case. Due to the sole production at the location in Hörstel-Bevergern and the qualified employees of bwh Koffer, a complete quality control is guaranteed.
"Made in Germany" in an exposed location
The bwh case manufacturer is located in the production site in Germany in a powerful region in Westphalia.
The company head office and production site in Hörstel-Bevergern is a perfect starting point for smoothly run logistics. Train lines cross one another here and the quick, smooth supply is both possible in the North-South connection as well as in the East-West connection. The proximity to Münster-Osnabrück international airport as well as the immediate adjacency to the Netherlands make the headquarters in Hörstel-Bevergern additionally interesting..
The intentional production "Made in Germany" is an important stepping stone on the path to success for the bwh case manufacturer and promises highly skilled employees as well as superior productivity. The site in Germany not only allows for continued high quality and consistently prompt delivery times but also for the necessary space to be able to react to new challenges in the shortest possible time. The special depth of production at the company, such as when manufacturing foam inserts for example, also lends support to this flexibility at the headquarters in Germany.
Your contact persons at bwh Koffer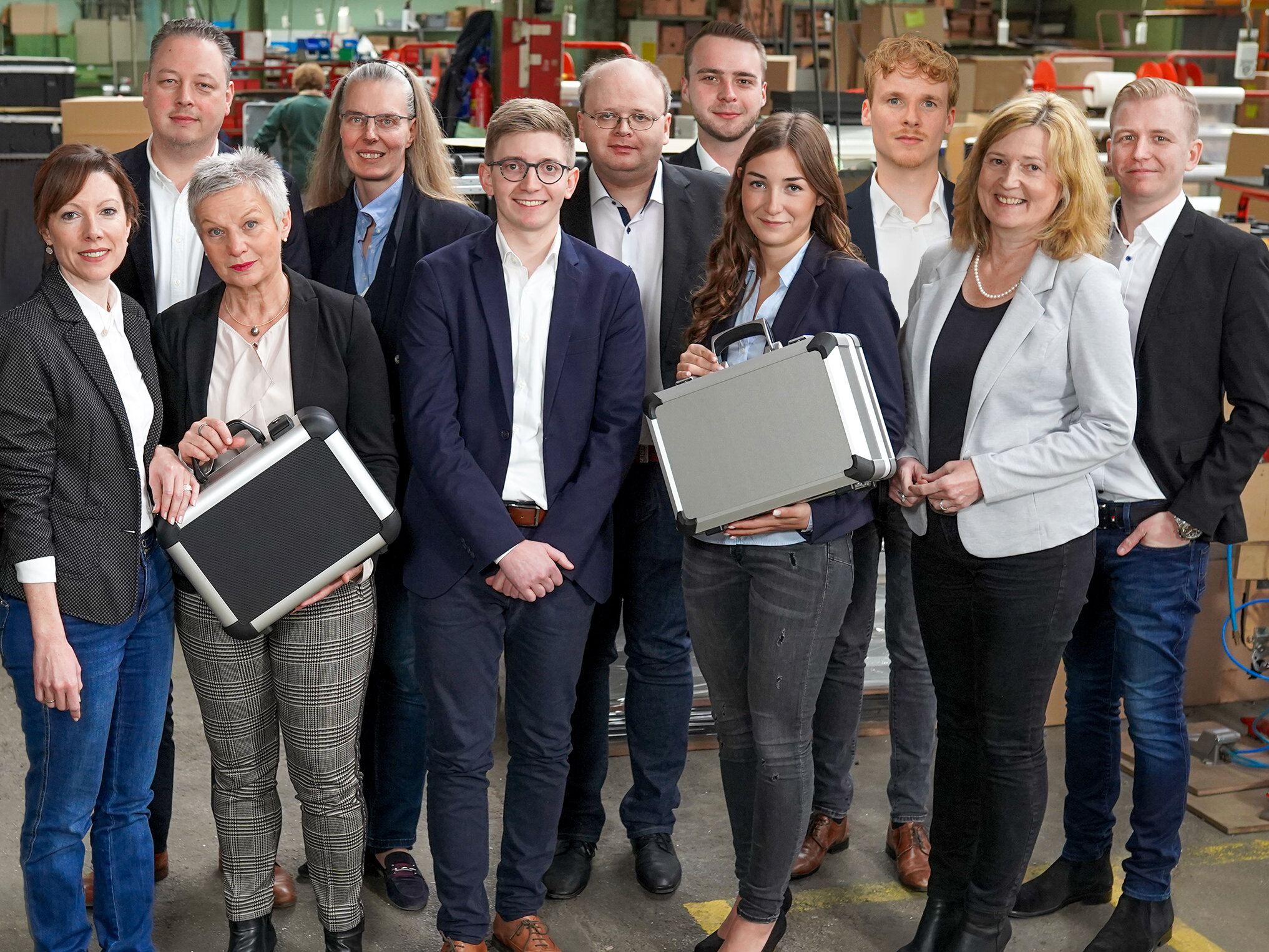 Advice and contact
Are you looking for a special case for your goods and products?
Then our team of experienced consultants is the right address for you!
We would be pleased to visit and advise you on site. Or just come to us!? In either case we look forward to a personal conversation with you!
Phone: +49 (0)5459 9339 0